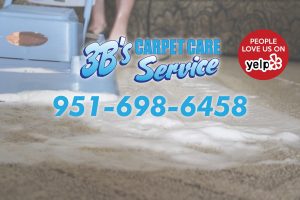 3B's always advises that you give prompt attention to Spots and Spills  for  Best Results  on your Carpet, Upholstery and Mattress  cleaning or call us at 951-698-6458 if you are not sure what to use. Use a spoon or knife to remove solid materials and always blot up liquid spills with a white towel. Never rub, scrub or use a stiff brush, this can cause damage to the carpet fibers, but you can use a soft brush, like a toothbrushe's texture in order to work the solution between the fibers. ALWAYS use a cleaning agent and a procedure that is appropriate for the type of stain to be removed. If you don't, you could void the Manufacturers Warranty on your carpet. Most spot removers sold at the store are not approved by the Carpet Manufacturers, the only one I am currently aware for approval, is called Folex,  which is citrus based. One of the BEST SPOT REMOVERS that is on the approval list for  COMMON FOOD and BEVERAGE SUBSTANCES is WHITE VINEGAR and WATER mixed equal parts, which you should prepare in a spray bottle and have ready in a CARRYING CADDY with a Soft Bristle Brush and some White Towels. For Urine, Vomit, or Fece's, please use 100 percent White Vinegar in a spray bottle to clean initially and then re-apply the White Vinegar and set a white or light colored Towel on the spot with a heavy object that has a flat bottom, such as a case of water on top  of it. Do this repeatedly for about a half an hour to an hour depending on the severity of the situation, until there is no appearance of the spot coming onto the towel. This will  help pull up what may have got into the backing of the carpet and the pad. The amount of White Vinegar you spray, is based on the severity of the spot. The worse the spot is, the more Vinegar you apply. White Vinegar is a solution of  5 percent acetic acid and can change the color of some dyes, so it should always be tested first in a hidden area with a White Towel and make sure, there is no carpet color on it or any discoloration in the area you cleaned. White Vinegar can be bought by the gallon at any Grocery Store, Costco or Sam's Club and can also be used for other cleaning purposes; this will cost you less money then buying Spot Removers.
Also,  be sure to apply all cleaning agents to a cloth, rather then directly to the spotted area, this avoids saturating the carpet when spot cleaning; clean the fibers, not the backing of the carpet.  You can use a soft brush on the stains that are dried on the fibers though.  Do not rush, Deep stains might require repeat cleanings,  because they can "WICK" back up after an initial cleaning. If this occurs, be sure to clean the area again and set a towel over the area and weigh it down with a heavy, colorfast object such as a plastic waste basket with a weight inside. Continue to change the towel until the towel shows there is no evidence of the stain coming onto the towel. Be sure to always work your stains from the outside to the center, this will help prevent the stained area from spreading.
For OIL BASED STAINS use a product called Krud Kutter which is Biodegradable and follow the same procedures as above. You can purchase this product at any Home Improvement store.
3B's Carpet Cleaning & Floor Care Service  which is Family Owned and Operated since 1994 provides service to Southwest Riverside County as your Deep Carpet Cleaning and Floor Care Experts for the following cities: Murrieta, Ca., Temecula, Ca.,  Menifee, Ca., Sun City, Ca., Canyon Lake, Ca., Lake Elsinore, Ca., Wildomar, Ca., Winchester, Ca., and Fallbrook, Ca. We also Specialize in Deep Carpet, Upholstery and Mattress Cleaning using the Circular Dry Foam Method. Call 951-698-6458 now and schedule an appointment to get your Carpets, Upholstery or Bed Mattresses   cleaned. Click  here for money saving coupons.