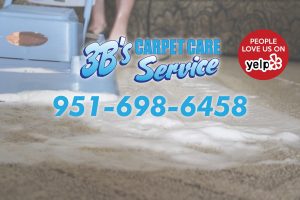 3B's Carpet Cleaning and Floor Care Service has had many customers tell us they have not had their carpets cleaned in 3 years or more because they have relied on myths and misconceptions. The fact is that Deep Carpet Cleaning extends the life of your carpet and saves you a lot of money required to replace prematurely worn carpet.  Carpets cleaned on a regular basis provide a healthy and safe living environment for you and your family, and at the same time adding years of life to one of the biggest investments in your Home or Business. So the question is, how often should they be cleaned?  The answer can depend on several factors.
Even though vacuuming can remove most of the dry soil, it is also necessary to have Deep Carpet Cleaning done on your carpet on a regular basis to remove deep embedded soil, pollutants and other debris that will wear down your carpet's fibers. When cleaned regularly, it is much easier to remove this material and saves you money on extra strength cleaners when you wait too long to clean. If you are noticing soil and dark areas on your carpet; it is very dirty and you should have it cleaned soon. Your cleaning interval will vary and  how often you clean your carpet will depend on a number of different factors. You must consider how many people are in your Home or Business, if you have kids or pets, whether or not smokers are present, and for Businesses; the volume of Traffic. For example, if you have a house with two adults and kids, you should clean your carpet every 6 months for traffic areas and 12 months for all of the carpet. If there are smokers, you should clean it every 4 to 6 months. If you have pets in your home, you should clean it at least every 3 to 4 months. Businesses should be cleaned a minimum of 6 months in the Traffic areas and 12 months for all of the carpet. The above numbers are just a general guideline. They are based on average environmental and living conditions.
Your cleaning interval will also depend on your Household or Business conditions and the Environment where you are located. Also, if you have new carpet, you may want to follow the Warranty Guidelines for Cleaning, which are every 6 months in the Traffic Areas and every 12 months for the all of the carpet depending on the length of the Warranty which can be 5,10,15, and 20 years and the Grade of Carpet you purchased. This is important,  because this is one of the items to meet in order for the Warranty to be honored by the Carpet Manufacturer.The longer you wait to clean, the more potential damage you do to your carpets and rugs, so make your appointment today by visiting 3bscarpetcare.com
3B's Carpet Cleaning & Floor Care Service is a Family Owned and Operated Business serving Southwest Riverside County as your Deep Carpet Cleaning and Floor Care Experts since 1994 for the following cities in : Murrieta, Ca., Temecula, Ca., Menifee, Ca., Sun City, Ca., Canyon Lake, Ca., Lake Elsinore, Ca., Wildomar, Ca.,  Winchester, Ca., Hemet, Ca. and Fallbrook, Ca.  that Specializes in  Deep Carpet, Upholstery and Mattress  Cleaning using the Circular Dry-Foam Cleaning Method. Call 951-698-6458 now and schedule an appointment to get your Carpets, Upholstery or Bed Mattresses  the cleanest they can be. Please visit http://3bscarpetcare.com/pricing.html for Pricing and for additional Savings  click on Coupon link http://3bscarpetcare.com/coupon.html  for an extra $15.00 off your Invoice.